Do you like goat cheese? Yes? Do you like balsamic vinegar? Yes? If the answer to both of these questions is no, then you shouldn't read any further. If the questions are answered by yes, then you should really consider trying these amazing tartlets! They are perfectly balanced –  a bit savory and a little sweet too. The recipe is very versatile, you can make big tartlets for a starter dish or small appetisers. I went for making small appetisers this time.
What I really like about this recipe is that it does not require a lot of ingredients, and when you have the onion jam prepared, you can quickly pull the tartlets together. The recipe is from one of my favourite cookbooks: "What Katie Ate, Recipes and Other Bits and Bobs". The cookbook contains a lot of recipes that are enjoyed by my housemates and me on a daily basis. Mmm her shrimp pasta quickly became one of our classics.
These tartlets are a perfect party appetiser or starter dish, easy but fancy!
The most important ingredient of this recipe is Balsamic vinegar. Before you can go to your supermarket and buy a bottle of Balsamic vinegar, the vinegar already has a long history. First, special grapes are picked, pressed, and boiled down to a dark syrup. The syrup is placed into oaken kegs. Over the years it moves to smaller kegs made of different wood types which adds flavour to the vinegar. Some kinds of balsamic vinegar have been aged for over a 100 years! That's what makes the vinegar relatively expensive.
I made this recipe for my 52weeksofcooking challenge, week 6.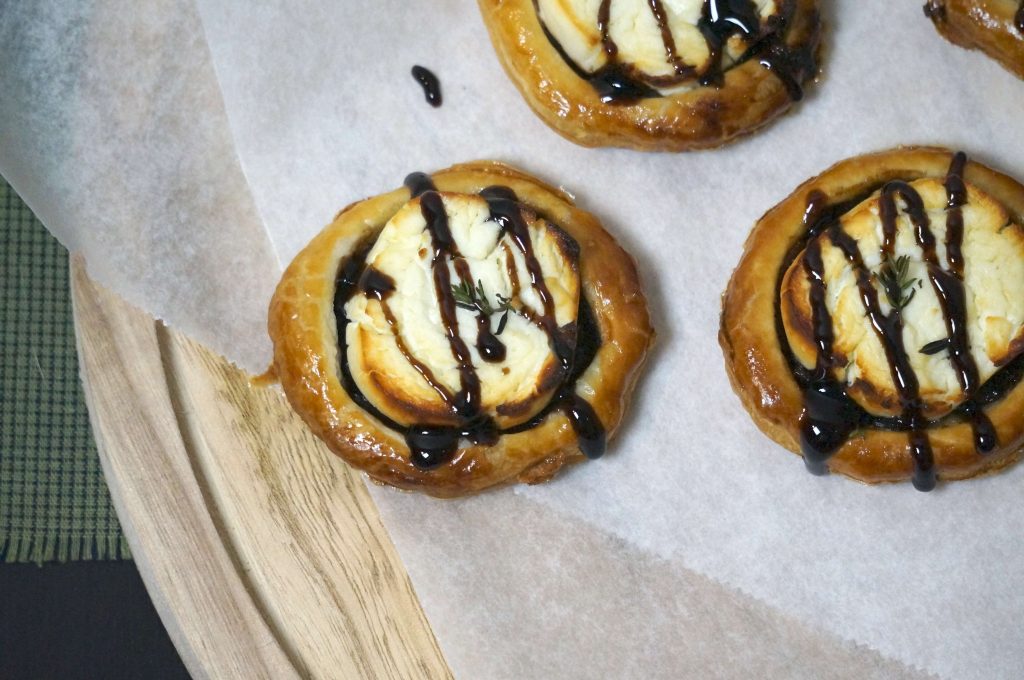 ---
Goat cheese tartlets with caramelised onions and balsamic syrup
Onion jam takes 1 hour, can be prepared beforehand. Tartlets take 35 minutes. 
Ingredients
Onion jam
4 large onions
2 tbsp olive oil
sea salt flakes
3 tbsp balsamic vinegar
1½ tbsp brown sugar
Tartlets
1 large sheet of puff pastry
1 egg yolk
the caramelised onion jam
goat cheese
sea salt and freshly ground black pepper
250 ml balsamic vinegar
3 tbsp brown sugar
Directions
Onion jam
Place onions in a large, deep heavy-bottomed saucepan and drizzle with olive oil. Using a wooden spoon, stir the onions to coat thoroughly with the oil, then season with a good pinch of salt.
Cook over medium-high heat for about 15 minutes or until softened. Turn the heat down to low and continue cooking for a further 30 minutes, stirring frequently to scrape any sticky bits from the bottom of the pan.
Add the vinegar and sugar and stir to coat well. Continue to cook over low heat for another 30-45 minutes, again scraping all the sticky bits from the bottom of the pan. Add a splash more vinegar if the jam becomes too sticky – the consistency should be that of a thick, luscious marmalade. Set aside to cool. This will make 1½ cups or 375ml of jam. Store excess in a sterilised jar and keep in the fridge for up to 1 week.
Tartlets
Preheat the oven to 220˚C.
Using a round pastry cutter or a small bowl as a template, cut rounds of pastry of your preferred size and place on a large non-stick or lined baking sheet. Score a 2cm border around the edges of the rounds, being careful not to cut all the way through. Avoiding the border, prick the bases all over with a fork. Brush the borders with the egg wash, taking care not to let the egg run down the sides or the pastry will rise unevenly.
Again, avoiding the border, divide the caramelised onion jam among the bases, spreading it out evenly. Place a round of goat's cheese on top, then scatter with the thyme leaves and season with pepper.
Bake for 20 minutes or until the puff pastry borders are golden and risen and the bases of the tartlets are cooked.
Meanwhile, place the balsamic vinegar in a small saucepan and bring to the boil, then reduce the heat and simmer until reduced by half. Add the brown sugar and simmer until the mixture becomes syrupy – it should coat the back of a spoon when it's ready. Set aside to cook and thicken.
Serve the tartlets drizzled with the balsamic syrup and scattered with thyme sprigs.