If this isn't comforting food, then what is? I learned to make this Saoto soup recipe from a wonderful Surinamese woman. During my 5-month stay in Suriname, having eaten a lot of different and delicious foods, I decided that I also wanted to learn how to make Surinamese food! So I looked up a cooking course, made an appointment, and it revealed to be one of the best things I've done in Suriname.
On a Sunday morning, pretty early – 8 'o clock, I got picked up by a lady and her husband. We're going to the Sunday Kwatta market. The lady shows me around while her husband patiently waits in the car. On the market, you can find a lot of exotic – and for us Europeans – unknown types of veggies and herbs. Finally, I know what everything is, and hopefully, after this day, I also know what to do with it. We're walking back and forth between the market stalls and the lady really negotiates for the best prices.
For the things they don't sell at the market, we go to a little supermarket across the street. What strikes me is that the prices in the supermarket are way higher for the same products you can buy on the market. Then we go back to her patient husband in the car and go to their house. When we arrived at her house, we first drink a big glass of lemonade, it was very hot that day. Then we make a plan for the rest of the day. We're going to make a lot of different dishes, two soups (saoto and peanut soup), pom, side dishes (okra and baked bananas) and fiadoe, a cake with rum and raisins.
We cooked all day, and were only finished at 8 in the evening. It all turned out great!
Good preparation is key to this recipe. A lot of ingredients aren't available in our local supermarket. A visit to the Toko is, again, a must!
Tip: best enjoyed with a cold Parbo beer!
I chose make this recipe for the 8th week of my 52weeksofcooking challenge.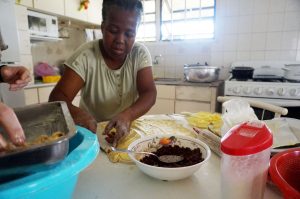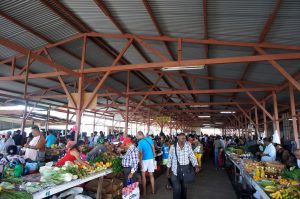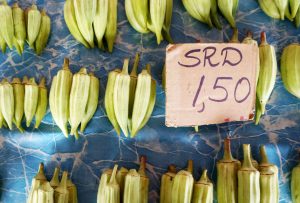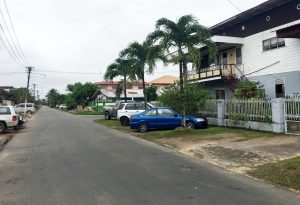 Top left: learning to make 'Fiadoe' during my cooking class, a very work intensive treat mostly made for weddings and birthdays. Top right: Kwatta market in Paramaribo. Bottom left: Okra for sale on the market, SRD is the local currency. Bottom right: the street where I lived for 5 months.  
---
Surinamese Saoto Soup
Eight to ten servings. Takes 2,5 hours (broth takes about 2 hours, 30 min preparation time). 
Ingredients
What you need for 5 litres of broth 
2 large chicken breasts
2 sereh stems
2 pieces of fresh laos (±1cm)
2 pieces of fresh ginger (±1cm)
5 allspice berries (aka: lontai or pimenta)
1 salam leaf (aka: Indonesian bay leaf)
8-12 small Maggi cubes (there are two cubes in every package) Please note: don't use the large bouillon cubes, because it will be too salty.
1 tsp nutmeg
1 twig of fresh celery
1 tbs five-spice powder
Garnishes
1 large bag of bean sprouts
10 eggs (on average one egg per person)
basmati rice (cooked according to the package)
2 bags of ready-made fried noodle/onion/potato Saoto mix
Spicy soy sauce
1 or more Madame Jeanette chilis (depending on how much spiciness you can handle!)
2 large cloves of garlic
2 small Maggi cubes
300 ml soy sauce
Directions
Broth 
Cut off the excess fat of the chicken breasts and place them in a large stock pot (6 litres at least).
Fill the pan with 5 litres of water and add Maggi cubes (8-12 to taste).
Then add the sereh (make some incisions), laos, ginger, allspice berries, celery twig with leaves, and bay leaves. Finally, add the nutmeg and stir well.
Bring the broth to a boil, then lower the heat and let it simmer for two hours. Occasionally remove the fatty layer with a skimmer.
Spicy soy sauce
Cut the Madame Jeanette and garlic cloves in slices. Add them to a little bit of water in a small saucepan.
Let them cook slowly till the chilis and garlic have become soft. Then allow to cool and puree in a blender or food processor.
Pour into a bowl and add the soy sauce. Depending on your taste you can add more or less sauce.
Eggs
Depending on the number of people you expect to join your dinner, you make 1 to 2 hard-boiled eggs per person. Let them cool down, and peel in advance. You can put them aside in a bowl of cold water.
Pulled chicken
When the broth is finished, you can take the chicken breasts out.
Start making the pulled chicken using two forks to pull the meat apart.
What to place on the table before eating
A large bowl of the pulled chicken
A bowl with the fried noodle/onion/potato Saoto mix
A bowl of cooked rice
A bowl of the green bean sprouts
A bowl of eggs
A bowl of the spicy soy sauce
Some leftover celery leaves
AND of course your broth!
Time to put it all together 🙂
Take a big soup bowl and start by taking some rice, chicken, green bean sprouts, and egg. Pour the warm broth over your ingredients, and top off with the fried noodle/onion/potato Saoto mix and celery leaves. Add the spicy soy sauce according to taste.