When I'm having a busy period, I always find it difficult to take my time in the mornings to have a nice and healthy breakfast. This banana bread is perfect for one of those weeks where you'd rather stay in bed for a little while longer. I love to start my day with a slice of this bread and a cup of coffee. 
The last few weeks I've been adjusting the recipe to my liking. The result is a nice and moist loaf that can be used for up to a week. You can, for example, prepare it on Sunday evening and enjoy it for the rest of the week. At least, if you can control yourself and keep your hands off… ;).
Sometimes, when I have a bit more time in the mornings, I like making smoothies for breakfast. If there is nothing left, I often have some granola as a back-up.
Do you have some breakfast tips for me? What do you prefer for breakfast?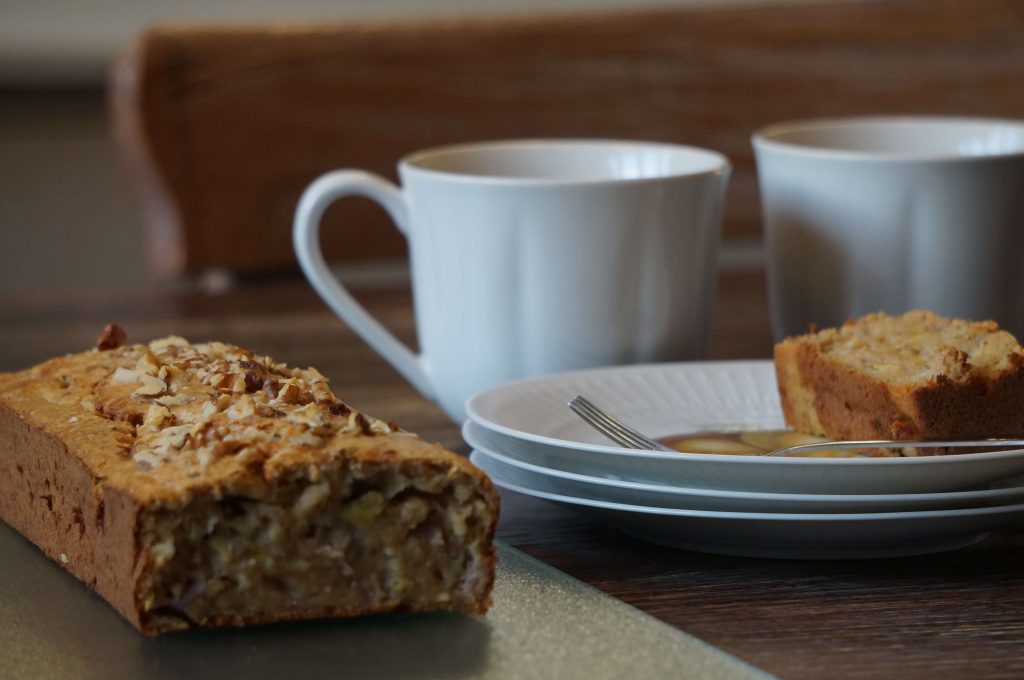 ---
Banana bread
Serves 10, takes about 30 minutes (+ 70 minutes oven time)
What you need
Ingredients
2 cups of wheat flour
½ cup oats
1½ cup milk
3 tbsp butter + some more for greasing the pan
3 ripe bananas
3 tbsp honey
1 tsp vanilla extract
2 large eggs
1½ tsp baking soda (Dutch readers: bakpoeder)
1 tsp ground cinnamon
½ tsp fine sea salt
1½ cups of chopped unsalted nuts (whatever nuts you like, I normally use a mix of walnuts, pecans, and hazelnuts)
Equipment
Cake pan
Cups for measure (for Dutch readers: I bought these from the Albert Heijn)
Directions
Mix the flour, oats, and milk in a large bowl. Put the bowl aside.
Preheat the oven to 180ºC when using a normal oven. When having an electric oven, preheat to 200ºC.
Mash the butter in a medium size bowl using a fork. Mash the bananas into the butter. Next, add honey, vanilla extract, and eggs and mix well.
Add the banana-butter mixture to the flour mixture and stir till combined. Then stir in the baking soda, cinnamon, and salt. Carefully fold in the nuts, but keep some apart.
Pour the cake batter into the greased pan. Add the last nuts on top. Bake for 70 minutes until golden brown. Check if the cake is ready by inserting a toothpick into the centre of the loaf. It should come out clean. Let the cake cool completely before slicing and serving.
Variation tip: add some almond extract and almond flour to the mixture for a different flavour, or add some raisins if you like them.