This soup is so surprising and delicious, I have to share it with you. It's olive soup. Olive soup? Yes, really, soup made of olives. I never expected you could make soup from olives, so I was very surprised when my friend Mirjam said that she and her mother, and a lot of her family members, made this soup all the time! The family made it so often,  that for a little while they had quite enough of it. Fortunately, since it had been some time ago, they decided to make it when my boyfriend and I were coming over for dinner. 
We spend the day near the home of Mirjam's family, getting a tour in an abbey where Norbertine monks brewed beer in the old days. After the tour, we've tasted several different beers that are designed and brewed in Belgium based on an old recipe that was found in the abbey. We got back to Mirjam's family house afterwards for dinner. They didn't only prepare the olive soup, but also a delicious risotto, and Mirjam's mother made a typical Dutch apple pie.
At the time I was still busy planning a Christmas menu. We were going to celebrate Christmas in Portugal together with my in-laws and my family. Since Portugal is big in harvesting delicious olives, the soup was a perfect Portuguese entree together with 'presunto', Portuguese dry-cured ham. Our families loved it. Luckily, the recipe is not only quick, but also very easy. Good luck!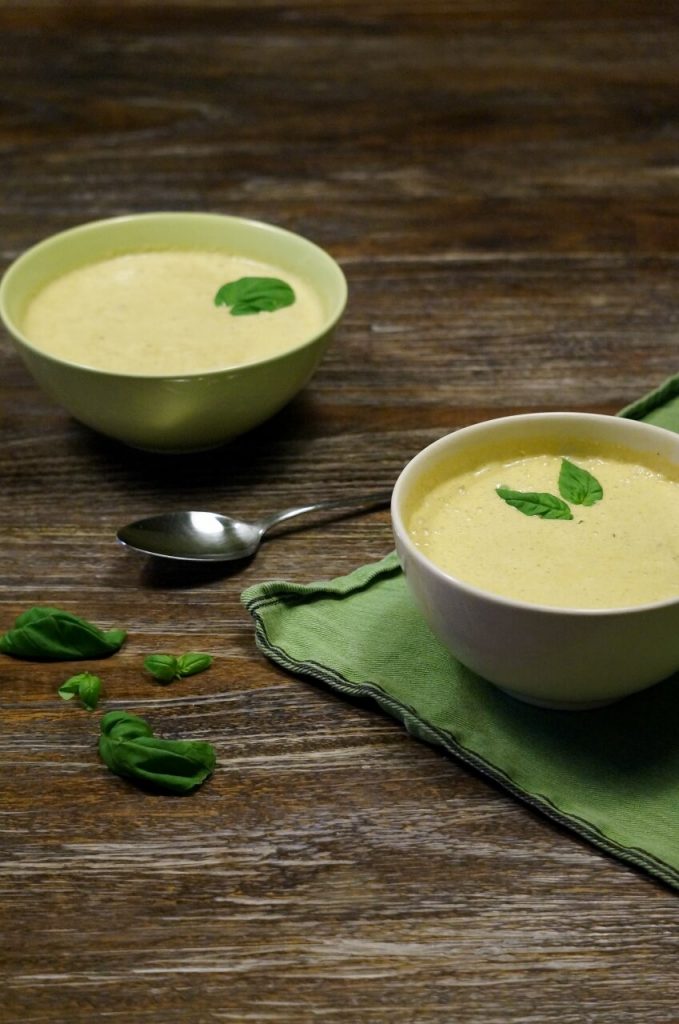 ---
Mirjam's olive soup
Serves 6, takes about 30 minutes
What you need
Ingredients
2 tbsp olive oil
4 shallots (or small red onions)
2 cloves of garlic
240 g pitted green olives
2 chicken broth tablets
15 g fresh basil
250 g mascarpone
100 g tapenade (or pesto)
100 ml white wine
Equipment
Soup pot/saucepan
(Immersion) blender
Directions
Chop the shallots and garlic finely, cut the basil into strips (keep some leafs for garnishing) and drain the olives.
Dissolve the chicken broth tablets in 1,5 litres of boiling water.
Heat the oil in the saucepan and fry the shallots and garlic for 1 minute.
Add the olives and broth and bring the soup to a boil.
Take the pan off the stove, and stir in the basil, mascarpone and tapenade.
Puree the soup using the immersion blender, then put it back on the stove (low heat) and stir in the white wine. Add some pepper according to your taste. In my experience, the soup is already salty enough due to the chicken broth.
Before serving, warm the soup and create a frothy layer using the immersion blender. Garnish with some basil leafs.
Tip: Enjoy this soup together with a fresh baguette and garlic butter or some Portuguese dry-cured ham/Italian prosciutto!
Inspired by this (Dutch) recipe