I think all Harry Potter fans will love this weeks' theme of my 52weeksofcooking challenge! The 'Inspired by books' theme of could of course only mean doing something with Harry Potter. Okay, no, it could also have meant Lord of the Rings or the Hobbit, and choosing was really difficult!  But in the end, I decided to go with my childhood favorite.
My experience learns that people either hate Harry Potter, it or love it! But really, what's not to like about a good fantasy story? I still remember when I started reading the first book. I was 12, just like Harry was in the first book, and was visiting my grandparents for the weekend. I literally grew up with Harry, Hermoine, and Ron.
Last year I went to London for my internship, and of course, I had to go to the Harry Potter studios of Warner Bros. I recommend this to all fans, it was absolutely amazing! You really feel like you're actually wandering around Hogwarts, Diagon Alley, Hogsmeade, the Burrow… at some points I couldn't help myself and got teary eyes of joy! The only thing I didn't like was their version of butterbeer. Their recipe is a secret, but fans think it is based on cream soda and butterscotch sauce. I wanted to make real alcoholic butterbeer!
"Tell you what", said Ron, his teeth chattering, "shall we go for a butterbeer in the Three Broomsticks?"
Harry Potter and the Prisoner of Azkaban, J.K. Rowling
Butterbeer is probably based on Buttered Beer, which was a real drink. The earliest reference to Buttered Beer was from, 'The Good Huswifes Handmaide for the Kitchin' published in London in 1588 A.D. Super old! This version contains English Ale and butter. If I need to describe the taste, it would be a bit like eggnog.
I also wanted to make a snack, so I went with Cornish pasties from Bryt of 'InLiterature'. Something that was often eaten at the great tables of the Hogwarts dining halls. I hope I did the books justice with these recipes!
"It's all right," he [Ron] said, helping himself to a Cornish pasty…
Harry Potter and the Goblet of Fire, J.K. Rowling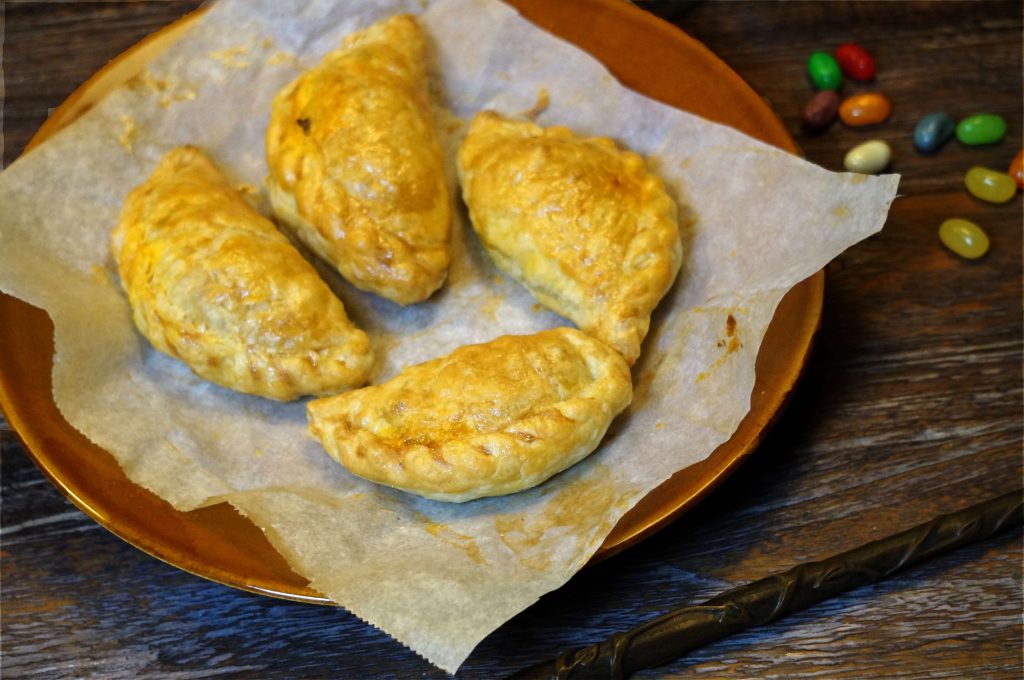 ---
Butterbeer and Cornish Pasties
Butterbeer recipe has two servings, takes 10 minutes. Cornish pasties recipe has 15 servings (depending on the size of your puff pasty circles) and takes 1 hour.
Ingredients
Butterbeer
1 bottle of British Ale (I used Speckled Hen)
1 tsp pumpkin pie spice (for Dutchies replaceable by "speculaas kruiden")
⅓ cup of brown sugar
2 egg yolks
2½ tbsp of unsalted butter
Cornish pasties
500 g minced) beef
1 turnip, finely chopped
2 onions, finely chopped
1 potato, finely diced
¼ cup Worcestershire sauce
½ cup tomato sauce
Salt and pepper
Large sheet of puff pastry
1 whisked egg for glaze
Directions
Butterbeer
Start by pouring the ale into a saucepan. To keep it from foaming up, angle the saucepan and gently pour the ale down the side into the pan.
Stir in the spices.
Gently heat until it comes to a boil, before lowering the heat and simmering for a few minutes.
In these few minutes, whisk together the yolks and sugar.
Lower the heat even more and add in the yolks and sugar to the ale.
Let simmer for 3-5 minutes and remove from heat.
Stir in the butter until fully mixed in.
With a hand blender, froth the ale until foam forms. Let sit to cool.
Using a spoon, hold back the froth as you pour the butterbeer into the beer stein. Leave about an inch of room on the top, spoon on the froth and serve.
Cornish pasties
Start by preparing the filling, chopping onions, the turnip, and potato, and mixing it together with the minced beef, Worcestershire sauce, and tomato sauce.
Use a small side plate as a template to cut out circles in the puff pastry.
Scoop the filling onto on side of the pastry, brush water on the edges, then fold the pastry over to form a D-shape.
Press the edges together all along the curve of the D and fold.
Place on a baking paper lined baking tray, pierce dough in two places to allow for steam, then brush the tops with the beaten eggs.
Place in a preheated oven at 180°C for 30 minutes.