The second week's theme of my 52weeksofcooking challenge is 'Spicy'. For some people that might be a bit unfortunate, but not for me! If there's one thing I really enjoy, it is spicy foods. Of course, it took me some time to get used too – the first time my BF and I went to an authentic Chinese restaurant I cried and sniffed almost all evening. For the record, the evening was very enjoyable, that wasn't the reason ;). The food was totally worth all the sniffing and teary eyes! 
I said 'authentic Chinese restaurant' because a lot of 'Dutch Chinese restaurants' have adapted their taste to the Dutch public. They make dishes less spicy and they serve dishes that are not even part of any original Chinese cuisine! Very peculiar if you ask me. This authentic Chinese restaurant we went to has a lot of awesome dishes on their menu, one being Mapo Tofu. I'd never had a dish like Mapo Tofu before and it quickly became one of my favourite dishes.
One thing I learned is that peppers, besides being spicy, have their own unique flavour too. The special thing about Mapo Tofu is the use of Sichuan pepper. Strictly speaking, Sichuan pepper is not a real pepper. It belongs to the citrus family instead of the chilli pepper or black pepper family. That is why the pepper is not very hot in comparison with most peppers and has a lemon-like overtone. What is more, the pepper produces a strange tingling, buzzing and numbing sensation!
Not having cooked anything with tofu before or tried to cook anything authentically Chinese, Mapo Tofu was a perfect fit for this challenge! I used a recipe from 'omnivore's cookbook'.
Not all ingredients are available in the supermarket, so for the special sauces and oil, you have to go to a 'Toko'. De Toko's in the Netherlands are known as specialized supermarkets with Chinese, Thai, Indonesian, Indian, African and Surinamese products. Once you've bought these products you can use them over and over for a long time!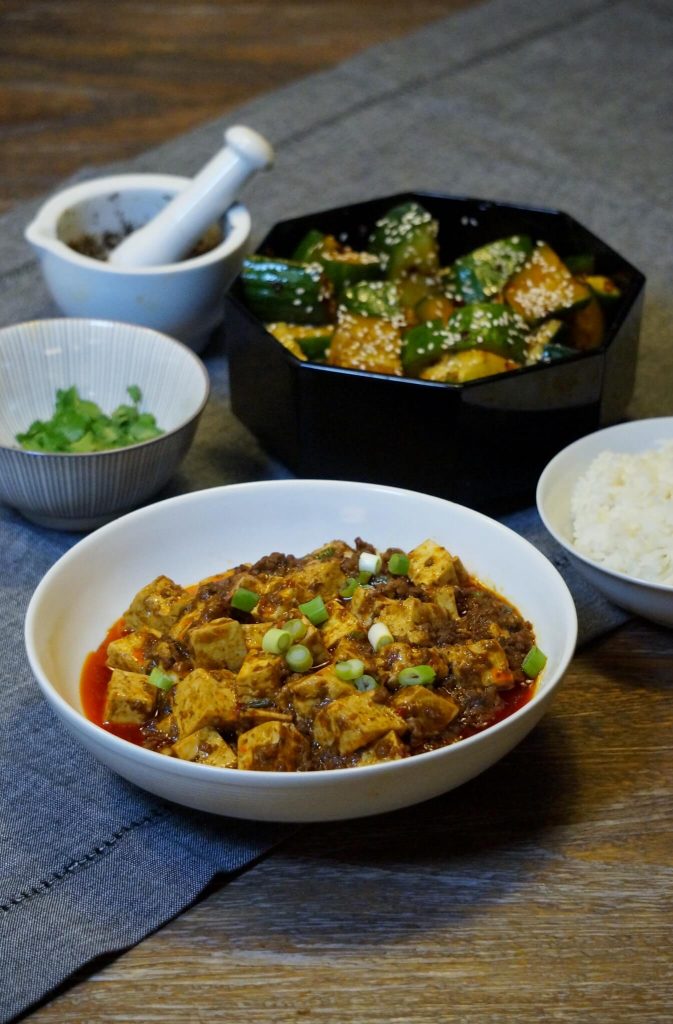 Mapo Tofu
Serves 2, takes about 25 minutes
Ingredients
Marinade
 120 g ground meat (pork and beef)
2 tsp Shaoxing wine
1 tsp light soy sauce
1/2 tsp freshly grated ginger
For braising
 1 tsp cornstarch
2 tsp Sichuan peppercorns
1 tbsp vegetable oil
3 tbsp Doubanjiang (spicy fermented bean paste)
2 tbsp chopped green onion
1 block (400-g) firm or medium firm tofu, cut into 1.5cm squares
1 cup  chicken stock
2 tsp Chinese chilli oil (Lao Gan Ma)
1/4 tsp five-spice powder
1 tsp sugar or to taste
2 chopped green onions for garnish
(optional) coriander for garnish
150 g steamed rice to serve with
Fresh cucumber side dish
1 cucumber
3 tbsp white vinegar
1 tbsp Chinese chilli oil (Lao Gan Ma)
1 tbsp light soy sauce
Sesame seeds
Equipment
Directions
Start with the cucumber side dish so the flavours can really be taken up by the cucumbers. Cut the cucumber into big chunks. Smash them a little bit so they can take up more flavour. Add the rest of the ingredients, mix, and set aside.
Combine ground meat, cooking wine, soy sauce, and ginger in a bowl. Mix well.
Combine cornstarch with 1 tablespoon water in a small bowl. Mix well and set aside.
Cut and prep tofu and herbs.
Heat vegetable oil and Sichuan pepper in a large nonstick frying pan over medium-high heat. When the Sichuan peppers turn dark brown and crispy, scoop them out with a spatula and transfer into a bowl layered with a paper towel to soak extra oil. Save to use for garnish the dish.
When the oil is hot, add ground meat and Doubanjiang. Stir-fry over medium heat with a spatula, until pork is evenly coated with Doubanjiang. Add green onion and stir-fry for another minute.
Spread tofu evenly on top of your meat mixture. Add chilli oil, five-spice powder, and sugar. Pour in water and cook until bringing to a simmer. Simmer, covered, over low heat for 10 to 15 minutes, until tofu becomes tender and the sauce has reduced to half the original amount. Taste the tofu with some broth. If the dish is too spicy, add another teaspoon of sugar. Gently mix well with a spatula.
Meanwhile, ground the fried Sichuan peppers  (used when heating up the oil) using mortar and pastel.
Mix cornstarch water again until fully dissolved and swirl it into the frying pan. Gently stir a few times with a spatula, until sauce thickens. Turn off heat and transfer everything to a bowl.
Garnish with green onion, coriander and a small pinch the ground Sichuan peppers. Serve warm over steamed rice.
Tip:  Do not stir the tofu immediately after adding it to the frying pan, to keep the pieces from breaking apart. The tofu will get firmer after braising and you can stir it once it's cooked.