Not everything I'm making is a big success. Still, either a success or a failure, I'll give you an honest report at all times! This Korean bulgogi with kimchi might look good, but good looks can be deceiving…For the fifth week of 52weeksofcooking, the theme was Olympics. This theme is very broad. I could have done a recipe from ancient Greece or incorporate important Olympic symbols like the Olympic rings or the Olympic flame into the dish. The Olympics this year are taking place in Pyeongchang, South Korea. Since I have never made Korean food before, and because this cooking journey is meant to be a challenge, I chose to try the Korean cuisine.
When looking for Korean recipes on the internet, one was by far the most popular: kimchi. It's even been covered by Jamie Oliver! So that sounded like something I could probably manage.  Basically, kimchi is fermented cabbage with gochugaru, a Korean spice. Kimchi can be seen as the National staple food of Korea. On Jamie's site, I read: "It is so highly regarded in the country that workers are given annual bonuses to enable them to make their own supply." Wow! It is incorporated in several dishes, but can also be served as a side dish. In order to get all the ingredients, I had to make a trip to our local Toko again!
Beware, Kimchi is not for the weak hearted. It smells. Smells a lot. Fermented stuff.
The other dish, bulgogi, was less risky. It sounded pretty easy and quite normal to my taste: marinated chicken with a soy/pear sauce. So I went with that, combining a 'risky recipe' with a 'save recipe'. Normally I ask my housemates to join for dinner, but this time I wanted to try it first before serving them Korean food. I'm not sure what kimchi is supposed to taste like, but it's definitely not one of my favourites at the moment! Maybe I can look up a Korean restaurant in the near future and try it there too for reference.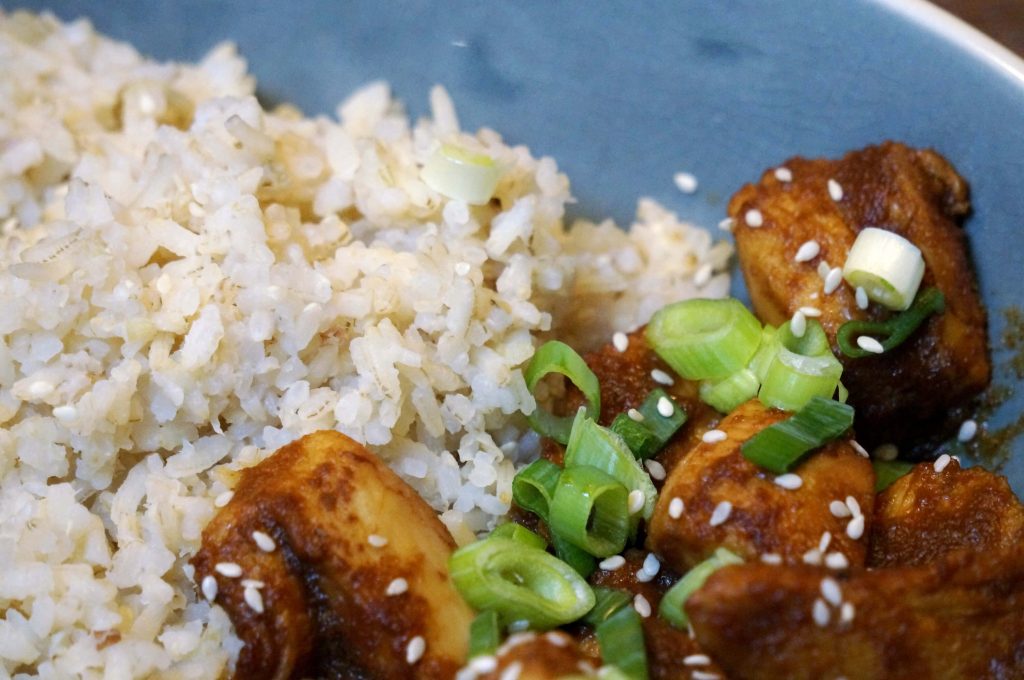 ---
Korean chicken bulgogi and kimchi
Both take a lot of time. Chicken needs to be marinated for 2 hours, Kimchi needs to be set aside for several days.
Ingredients
Chicken bulgogi
'Serves about 2 persons'
2 garlic cloves, peeled
½ onion
½ pear
3 tbsp soy sauce
1½ tbsp caster sugar
1 tbsp sesame oil
1½ tbsp mirin
pinch black pepper
1 large chicken breasts, cut into thin strips
150g brown rice
1 tbsp groundnut oil
2 free-range eggs
Kimchi
'Makes about 1 litre'
1 Chinese cabbage, or if not available, pak choi or white cabbage
4 tbsp sea salt
6 garlic cloves
A thumb-sized piece of ginger
2 tsp caster sugar
2 tbsp shrimp paste (trassi)
3 tbsp dried gochugaru
200 g radishes
6 spring onions
Directions
Chicken bulgogi
To make the marinade, blitz the garlic, onion, and pear in a food processor and place in a bowl. Add the soy, sugar, 5 tablespoons water, sesame oil, mirin and pepper and mix well. Add the chicken and stir to combine. Cover and leave to marinate in the fridge for an hour.
After half an hour, bring a pan of water to the boil, add the rice and cook for 25 – 30 minutes, or until tender. Drain and set aside.
Heat a wok over a high heat and stir-fry the chicken for 4 – 5 minutes, until cooked through and browned.
Meanwhile, heat the oil in a large frying pan and break the eggs in. Fry to your liking, basting the yolk with the oil to make sure it's cooked.
To serve, place the rice in a bowl and top with the chicken, fried egg and a spoonful of kimchi
Kimchi
Remove the stalks from the cabbage, then chop it into 4cm pieces and place in a large bowl. Sprinkle with the salt and massage it in with your hands.
Cover the cabbage with cold water and set a plate on top to keep the veg submerged. Set aside for 2 hours.
Tip the cabbage in a colander, rinse it thoroughly under cold water, then leave to drain for 30 minutes.
Place the garlic, ginger, and sugar in a food processor and blitz to a smooth paste. Transfer it to a bowl and mix in the shrimp paste and gochugaru until combined.
Put the radishes and spring onions into a large bowl. Squeeze out any excess water from the cabbage, then add it to the bowl, along with the gochugaru paste. Wearing disposable gloves, use your hands to mix it all together thoroughly.
Spoon the kimchi into a large preserving jar and press it down so the juices rise, leaving a gap at the top, then close and seal the lid.
Leave the kimchi to ferment at room temperature for 2–5 days. Check the kimchi every day, letting out some gas and pressing the vegetables down into the brine.
When the kimchi tastes delicious, transfer the jar to the fridge. This will keep for up to three months.