Dear readers, I wish you all a very happy new year! The last couple of months I found it very difficult to keep blogging. I didn't have much time, and I also didn't know what to write about, or what dishes to make. Then I saw an awesome film, and a new idea began to take form.
A few months ago, during a nice stay with the parents of my BF in Portugal, I watched "Julie and Julia". The film describes the life of Julie Powell, a 30-year-old girl, in the middle of a mid-life crisis. She's hopping from one job to another, she lives with a nice well-earning man – but that's not even important now – in a worthless apartment, and the only thing she can think of is: 'is this it?'
Then she finds a cookbook from the sixties: Julia Child's debut book, Mastering the Art of French Cooking. She decides to cook all the recipes in the book within a years' time and to keep a blog about it. Because of the discipline that this project entails, but also because of the unexpected twists and turns that lead to an amazing tomato bruschetta and the perfect boeuf bourguignon, Powell not only learns good cooking, she also enjoys herself more.
'Could I do it?' I began to think. Well, maybe not what Julie did – 524 recipes in 365 days –  but I could make something weekly! I started to search the internet for food challenge ideas and found an exciting Reddit page: 52weeksofcooking. Each week, they give you an ingredient, technique, cuisine, or inspiration. Each week, you cook or bake a dish in that theme and share the results. I decided to join the group and hope that you will follow me on this new culinary journey towards mastering new cooking and baking skills!
The theme of the first week is 'New to You', and I chose to make my own bread! I'd never made it before, so it fits the theme perfectly. This Jamie Oliver recipe didn't look too hard, and I must say that it was a great success! My housemates and I had it for dinner tonight, grated with Gruyère cheese, together with a large bowl of French onion soup.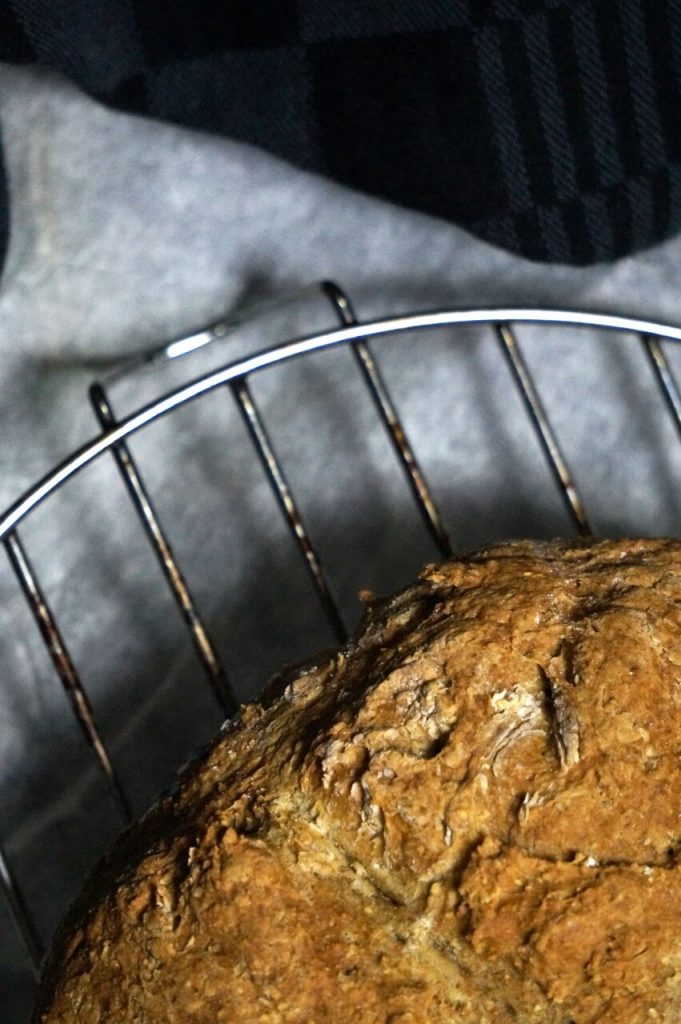 ---
Simple soda bread
Serves 6, takes about 1 hour and 30 minutes
What you need
Ingredients
250 g wholemeal flour
100 g plain flour, plus extra for dusting
50 g coarse oatmeal
1 tsp bicarbonate of soda
1 tsp sea salt
1 tsp sugar
1 large egg
300 ml buttermilk
Equipment
Directions
Preheat the oven to 190°C.
Place the flour, pinhead oatmeal, bicarbonate of soda, salt and sugar in a large bowl and mix together.
In a separate bowl, use a whisk to beat the egg and buttermilk together.
Use a fork to stir the egg mixture into the flour, then as it starts to come together, use your hands to pat and bring the dough together.
Shape the dough into a ball and place onto a lightly floured baking tray. Use your hands to flatten the dough slightly so you end up with a disk, roughly 6 to 7cm thick.
Score a cross into the top of the bread with the blunt edge of a knife, then bake in the centre of the oven for 50 to 60 minutes, or until a firm crust has formed and it sounds hollow when tapped on the bottom.
Turn the bread out onto a wire rack to cool, then serve slightly warm with some soup or a nice wedge of cheese.