The complexity of nature
I want to tell you something about a wonderful nature reserve called 'The Oostvaardersplassen'. The reserve is situated very closely to where I grew up when I was little. My parents still live nearby, so I can still visit the area so now and then by bike. During high school, my class did a project in the Oostvaardersplassen. It was an interdisciplinary project between chemistry and biology. We were divided into little groups and were assigned to plots of 10 square meters. On these plots, we had to map the entire system of plants, animals, and insects. We looked for poop and footprints and we checked the quality of the soil and water next to the plot. Thereafter, we tried to discover the relationships between water and soil quality and the plants and animals that we found on the plot. It was a quite extensive study for a small group of high school students, and I absolutely loved every bit of it. The project showed me the complexity of nature. It ultimately made me decide to study Biology; to learn about all processes and phenomena that form life on our planet!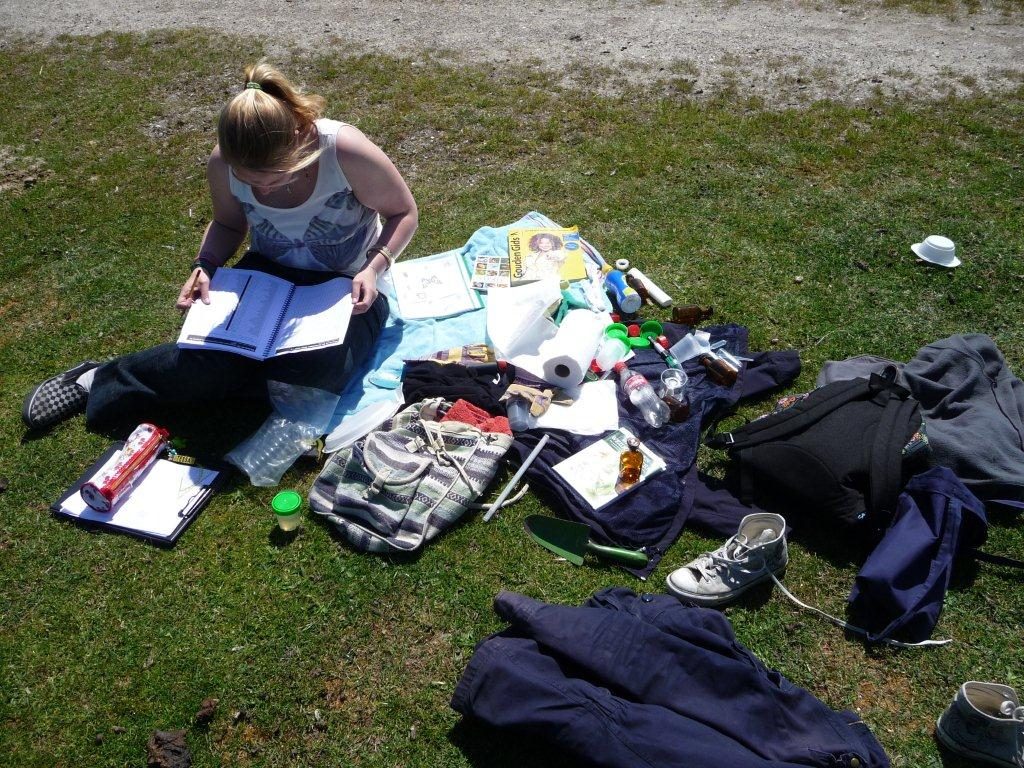 Picture from 2010 – Me sitting between our plant/insect/water/soil/poop collection materials on the study plot.
Beautiful and diverse area
The Oostvaardersplassen originated about 50 years ago when the government decided to make a polder (new land out of the sea, protected by dykes). The reserve covers about 56 square kilometers and has a lot of different wet and dry areas. When there was no money left to build an industry nature took her chance and plants started to grow everywhere. To extract water from the exposed soil, fields were planted with reed and formed reed beds (reed absorbs a lot of water). This created a lot of hiding places for all types of animals and insects. There are a lot of special and protected birds that breed, and stay during the winter in the Oostvaardersplassen which makes the area an important wetland. Over several years time, they have introduced konink ponies, red deer, and heck cattle, and since 2006 some sea eagles were spotted too! It is thought that these species have also existed in the Netherlands before humans disturbed the area.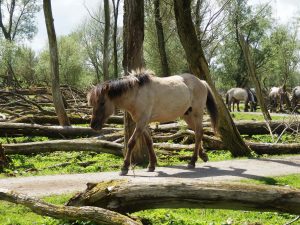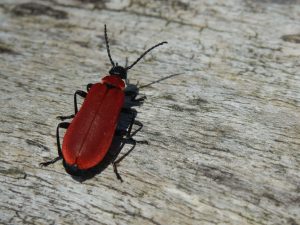 On the left: konink ponies roam freely through the reserve, so when going for a walk in the Oostvaardersplassen you can be surprised by suddenly standing in front of a big herd. I find it very impressive when they start running (gives me goosebumps!).  On the right: the cardinal beetle, or in dutch: Zwartkopvuurkever. 
Popularity
A lot of Dutch people didn't realise that we have such a beautiful nature reserve in our own country. However, it gained a lot of attention due to a wonderful documentary (almost as good as the BBC series Planet Earth!). The documentary is called 'De nieuwe wildernis' meaning 'The new wilderness'. During my high school project, and before the presentation of the documentary, it was always very quiet in the Oostvaarderplassen. You could go there without seeing anyone, except for a few bird watchers. There was a small sea container where you could go to the toilet, get a coffee and buy deer horns (the male deers shed their horns every winter). After the documentary, the area flooded with people who wanted to discover nature!  Now there is a beautiful big visitor center.
So my tip for you…
If you ever decide to visit the Netherlands, do not only go to Amsterdam, see tulips at the Keukenhof, windmills in the Zaanstreek and Volendam, but add this place to your list as well! If you're interested in Dutch nature reserves it is also worth it to look up the Veluwe.